This blog to is to inform our clients, customers and friends, that I will close my restaurant, At the Italian Table, when the lease ends this spring.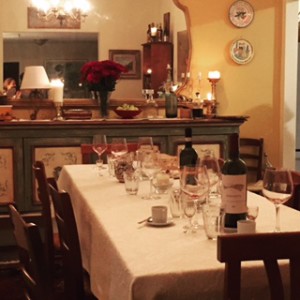 Almost five years ago, on August 1st, 2015, I opened At the Italian Table in Louisville KY and continued a lifelong journey of sharing my passion for authentic Italian cuisine and the Italian style of dining.  Surrounded by Italian antiques and decor sourced in Italy, I brought to reality a dining experience that took you out of middle America and put you into an Italian home.
What was once a private house and then a dress shop became a professional kitchen and two candle-lit dining rooms.  Open yet intimate, it allowed our patrons to watch us prepare their meal and invited them to interact and ask questions.  Dishes were seasonal, ingredients were both locally sourced and imported from Italy.  An all-Italian wine list has helped our patrons better understand the complex yet approachable world of Italian wines.
We became a local sensation as word of mouth spread to increase our exposure to the community.  So many people have come from all over America to enjoy dinner At the Italian Table!  Old clients from my cooking school in Tuscany, current clients from our Italian culinary tours at Ecco La Cucina, and out-of-town visitors to Louisville, have made our little restaurant a true destination dining experience.  In fact, we've enjoyed a top rating on Trip Advisor and lots of 5-star reviews!
The success is truly more than I imagined it could be 5 years ago. I brought my dream to fruition.  But as my lease is ending in April, I have chosen not to renew but to close the restaurant.
It's been such a special experience! I want to thank each one of you for your patronage, your support and your willingness to join us on this journey!  Many of you have become friends and I thank you for that.  I have been fortunate to have had several employees to mentor and work with who have been fabulous.  Without them, dinner never would have gotten to the table!
In the future, I will continue to take groups to Italy on our popular food and wine tours (www.eccolacucina.com), now in its 20th year.  I hope you'll join me and my sister, Mary, on one of our culinary excursions!
Our last day of service will be April 18th.  Many of the antiques, tableware and décor will be for sale after that date.  Until then, in addition to regular dinner service we have several special events and wine dinners planned.  We'll be sending out emails with details, so stay tuned!  To make a reservation, please go to Open Table or give us a call.
It has indeed been my pleasure!  Tante grazie e tanti auguri a tutti
Buon Appetito
Gina
Viva Italia!!