Pasta with Spring Peas & Prosciutto)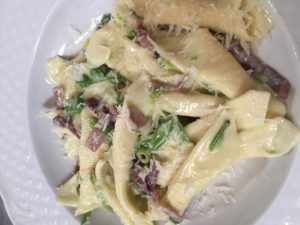 1 cup sliced prosciutto, cut into 1" strips
2 cups fresh peas or sugar snap pea pods
6 spring onions or scallions
2 garlic cloves, minced
Olive oil
4 fresh sage leaves, chopped or torn
1 cup cream
sea salt
                If using sugar snap pea pods, julienne them on a diagonal.  Likewise slice the spring onions or scallions on a diagonal.  Gently sauté the garlic, onion and peas in olive oil, add the sage leaves and then the prociutto and sauté a few minutes until peas are cooked through, adding salt to taste.   Add cream and heat until thickened.  Toss with cooked pasta, topping with a little olive oil and grated Parmigiano before serving.
Following is a basic recipe for the dough for whole egg pasta, used for making homemade tagliatelli, papparadelle, garganelli and all stuffed pasta shapes.  Use one egg for every two people, approximately.
2/3 cup all purpose flour (or ¾ Italian "00" flour
1 large egg
Place flour in a bowl or on the board or table, make a well in the center, add the egg(s) and beat with a fork or your fingers, mixing the yolk and white together and gradually incorporating the flour.  When the dough starts to come together, form it into a ball, gathering and scraping up all the lose ends of dough.  Knead it until it's smooth and elastic.  If the dough is at all sticky, add additional flour.  The dough should be smooth, dry and becomes rather stiff the more you work with it.  Depending on the humidity and the size of the eggs, you may need more or less flour, which can be determined while you work it.  Cover the ball with plastic wrap and let it rest at least 10 minutes.  Use a pasta machine to elongate and shape the sheets of pasta, which can be cut into narrow or wide strips
Balsamic vinegar and olive oil salad dressing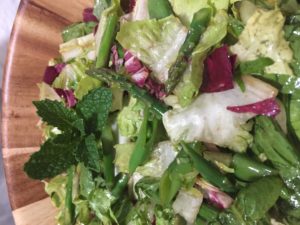 ¼ cup balsamic vinegar
1 teas anchovy paste
½ teas mustard powder
1 teas sea salt
1 whole garlic clove
1 cup extra virgin olive oil
Place all ingredients in a jar and shake until emulsified.  Use as dressing for salad or cold cooked vegetables.
For the crespelle:          2 cups flour
4 eggs, beaten
2 tbsp melted butter
2 cups milk
dash nutmeg
1 teas black pepper
½ cup grated parmigiano
½ teas salt
Melt the butter in the small non-stick saute pan you will use for the crepes.  Mix eggs, milk and butter together, make a well in the flour and add the liquid ingredients to the flour.  Whisk together and strain the crepes batter through a sieve to remove any lumps, add salt, black pepper, parmigiano and nutmeg, stirring well.
Heat the non-stick pan and add a small scoop of the batter to the heated pan, tilting and turning the pan quickly to evenly distribute the batter before it sets.  The crespelle should be thin and even. Turn the crespelle as soon as it is cooked through, before the bottom browns.  Stack them on top of each other as they are done.  Can be made the day ahead.
To serve:
Heat the broth to boiling, pour two cups over thin slivers of carrots and parsley sprigs and allow to sit.
Place a tablespoon of grated parmigiano and a fresh grating of black pepper on the middle of each crespelle and roll up, putting the crepe in the bottom of a wide soup dish.  Sprinkle a few carrot slivers and parsley sprigs over the crespelle.  Ladle a scoop of broth on top of the crespelle and serve.
Broth –Homemade broth is a staple in the Italian kitchen and extremely easy to make.  It's much better than any purchased broth you can get and can be made light (vegetable), medium (with chicken) or more robust (with beef).  We use it as an addition to vegetable soups, to make a flavorful risotto, or in a soup with pasta or crepes added, or in addition to a braised meat dish.   As with any Italian recipe, it's more important to use fresh ingredients than to use exact amounts.  If you want to use 3 carrots or 4 celery stalks, feel free!
"Bone broth" is a current fad that just means this recipe made with chicken or beef bones.
2 carrots & 2 celery stalks, cleaned and cut in 1" pieces
1 medium onion, quartered
6 parsley stems, with or without leaves
1 small tomato, whole
10 peppercorns
2 bay leaves
Sea salt
Put all ingredients in a pot and cover with a good quantity of water.  Bring to a simmer and allow to cook 2 hours, uncovered and without stirring.   Don't let the pot boil.   Ladle out the broth, being careful not to disturb the soup or stir or tip the pot; season with sea salt to taste.
For chicken and/or beef broth, use pieces of chicken and either beef bones, beef ribs with meat or just a chuck roast.  Cover the meat with water and bring to a boil.  Pour off the water and rinse the meat, getting rid of any impurities, cover with fresh water and add the vegetables; continue as above.   Be careful not to disturb the pot or stir as this makes for a cloudy broth.
4 eggs
1 ½ cups sugar
1 whole orange, organic & cut into pieces
2/3  cup olive oil
2 cups flour
1 teas baking powder
2 tbsp brandy or bourbon
In a food processor, puree the entire orange.  Add the olive oil and puree until orange pieces are small.  Butter and line with parchment a 9" round cake pan.  Heat oven to 365.
Beat eggs in a mixer until light, gradually add the sugar and continue beating until fluffy.  Add the orange mixture and beat 1 minute. Sift the flour and measure out 2 cups.  Sift again with the baking powder.  Gradually add the flour to the egg mixture in 3 stages, folding gently to avoid deflating the air that you've beaten in.
Carefully add the cake mixture to the pan and bake until cake tester or toothpick comes out clean, about 40 minutes.  Do not open the over for the first 30 minutes. Cool on a rack, dust with powdered sugar and serve with whipped cream.
https://www.thrillist.com/venues/eat/louisville/restaurants/at-the-italian-table
http://www.louisvilledistilled.com/features/mustvisitrestaurantlist.aspx