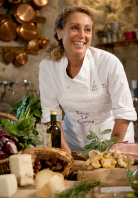 Gina Stipo is an Italian American chef who lived and worked in Italy for over 13 years, cooking, teaching and immersing herself in Italian cuisine and wines in the countryside of Tuscany.
As the owner of Ecco La Cucina, which means "here's the kitchen", she taught cooking classes and conducted culinary tours and wine education for international visitors to the Siena area. Gina loves to share her passion for regional Italian food and wine and also writes a blog about food and her experiences in Italy under the title "At the Italian Table".
Chef Gina relocated back to the US in 2013 and chose Louisville because she loves the community spirit, the beauty of the neighborhoods, and the locally owned businesses and restaurants. She longed to bring the Italian style of dining and living to Louisville and has seen that realized with At the Italian Table at 2359 Frankfort Avenue.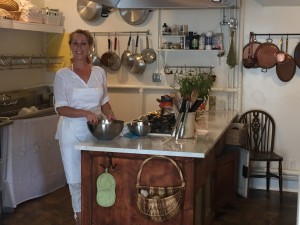 In addition to her work in Italy, Gina led workshops on Italian cuisine and taught classes at culinary schools, universities and private homes throughout the US.  She has been the guest chef at several restaurants and private clubs, featuring four and five course meals that evoke the Italian table and holds both demonstration and hands-on classes.
Together with her sister and partner, Mary Potter, Ecco La Cucina still conducts weeklong culinary tours to Italy that immerse visitors into the food, wine, history and culture of Italian regions each spring and fall.
Growing up in an Italian-American family on the east coast, Gina was immersed in the southern Italian dishes that reflected the family heritage. Working in the family garden, she developed a strong respect for ingredients, while several years as a child in Verona, Italy, strengthened her love for the country and instilled a desire to learn more about the regional differences that make up the country of Italy.
Gina's cuisine focuses on the simplicity and seasonality of the Italian table. Living in Italy fulltime for many years gave her the opportunity to travel around Italy, working with both professional chefs and home cooks to learn the regional differences and traditions that comprise the world-renowned cuisine of Italy.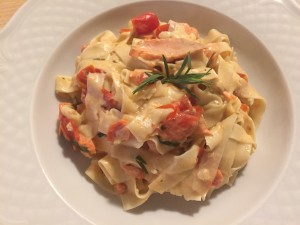 Her specialty is fresh pasta and dinner At the Italian Table frequently includes the light, delicate pasta indicative of northern Italian cuisine.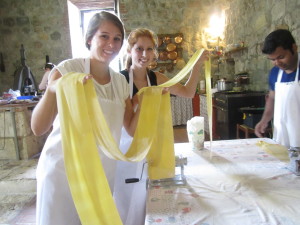 Gina's classical training was received at the Institute of Culinary Education (ICE) in New York City. She authored the cookbook "Ecco La Cucina" in 2012, a collection of traditional recipes from the Siena area, available for purchase in the store At the Italian Table.
For more information about Chef Gina Stipo or her culinary vacations and cooking classes, visit the website: www.EccoLaCucina.com.
Also visit Trip Advisor to read what past students say about it!