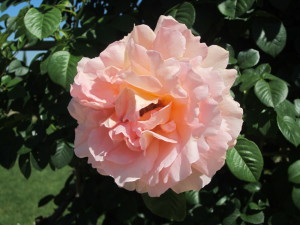 Edible flowers are both beautiful and functional. So many flowers are edible, from nasturtiums, pansies, and violets, to perennial herbs like rosemary, sage and chive. The effort you make to plant and cultivate them will reward you both in the garden and on the plate.
The burst of color from edible flowers to garnish a dish is common, especially in the Italian alpine regions of Friuli and Alto Adige. The pop of color you get from violets or nasturtiums sprinkled in a salad or served on a cheese board is a joyful alpine expression! A little further south, acacia and elder flowers are a springtime treat in the regions of Veneto and Lombardia. The acacia (aka black locust) trees are in bloom now in Italy and the US and line the roadways with their full white boughs. And everyone who has been to Italy knows that fried zucchini flowers are a summer staple. Plant zucchini now for flowers all summer long.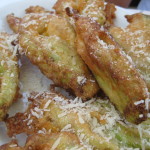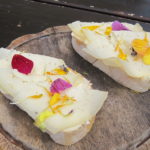 We have really been enjoying the chive flowers this spring, sprinkled on soup or in salads. The slight oniony bite gives an unexpected lift to so many dishes. Plant chives now and you will have flowers next spring. Rosemary flowers are delicious sprinkled on sautéed mushrooms that top a grilled steak. Sage flowers are wonderful fried and served as aperitivo with a cold glass of prosecco or white wine.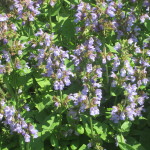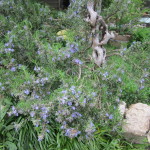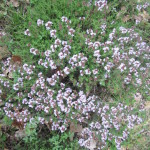 The blossoms of herbs carry the perfume and flavor of the herb, but with more subtlety.  Sprinkle the flowers on anything you would normally flavor the dish with, just before serving.  Be sure to only eat flowers that have not been treated with chemicals though. Buon Appetito!