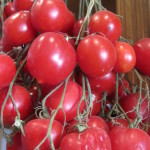 Late summer is in full swing, which in today's world means the kids are already back in school just when the tomatoes are beautiful, plump, dark red and full of flavor, perfect for an al fresco lunch.  There is nothing like a home-grown tomato, red and ripe, sliced and sprinkled with salt and olive oil, a little basil and some good bread to sop up the juices.   Maybe add a ball of mozzarella or burrata.   Tomatoes are easy to grow, if you can protect them from marauding rodents, but if you don't grow your own, great tomatoes are just down the road at your local farmers market.
I wonder how many kids would be happy to see a ripe tomato in their lunch box, ready for snacking?!
The tomato is a member of the nightshade family, which also includes peppers, eggplants and potatoes, as well as tobacco, belladonna and mandrake.  Originating in Central and South America, where it is a perennial, the Spanish are credited with distributing it around the world: to Asia through the Philippines and to Europe through Spain and Spanish colonies in southern Italy.  The tomato is so closely linked with Italian cuisine that many people are surprised to learn that it has only been used in Naples and the Italian south since the mid-17th Century, and in central and northern Italy since the late 18th or early 19th Century.  In Campania, where tomatoes proliferate, the tomato was first mentioned in a cookbook of Spanish-influenced recipes printed in Naples in 1692.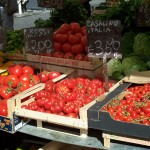 In the US we have tried and true varieties, but heirloom tomatoes have made a big comeback, so called because they were old varieties, grown by past generations, that fell out of favor when everyone left their gardens and started shopping at the supermarkets.  In Italy the old varieties were never lost and, even though more people shop at a supermarket than tend a garden, the traditional varieties, all wrinkled and nubbley and thick-skinned, have continued their strong presence in both garden and kitchen.  Some of the best and sweetest tomatoes are grown in Campania and Sicily on the volcanic soils of Vesuvius and Etna.
On our recent trip to Tuscany for the July Palio, we were treated to a simple pasta course of spaghetti with a fresh tomato sauce that blew our socks off!   Fresh cherry tomatoes were simmered with onion, garlic and olive oil, until they broke down into a sweet, oily goodness, then tossed with spaghetti and fresh basil.  We've recreated the sauce since coming back and it is a delicious addition to summer recipes.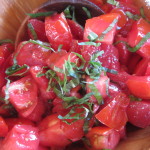 There are so many tomatoes available on the market now, whether you're shopping at the farmers market, growing your own or swinging by the grocery store.  Some tomatoes are sweet, like little date tomatoes, and some have more pulp and less juice, like the Roma.  Some tomatoes get even sweeter when they're heated and those are the ones you want for this sauce!   To determine which are best, get a variety of cherry and grape tomatoes, cut one of each in half and pop them on a baking sheet into a hot oven.  Once they're heated through, take them out and taste each one.  You'll want to use the ones that turn the sweetest in the heat!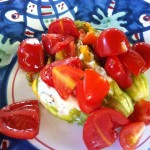 Have fun and buon appetito!