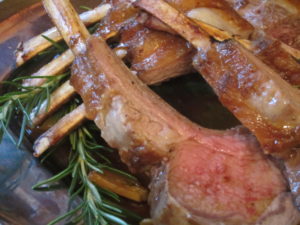 Holidays can seem overwhelming and what with all the egg-dying, bread-baking and candy-buying, keeping the Easter lunch simple makes sense.
Lamb is in season and a rack of lamb chops is simple and very elegant.  Buy enough for two per person, salt the racks well and brown them on all sides in olive oil in a large saute pan.  Place them in a roasting pan and roast at 400 for 10 minutes.  That should give you a lovely brown skin and a gorgeous red center; use an instant read thermometer to take the temp to 125-135, which is med rare to medium.  Take them out of the oven and let them rest 10 minutes.  Slice the rack into individual chops and place them on a bed of mint and rosemary.
Meanwhile in the saute pan, to the olive oil add one minced shallot and a minced garlic clove.  Cook gently, add white or red wine and reduce.  Stir in a tablespoon of cherry jam and you have a lovely light sauce to drizzle over the chops on their way to the table!
Serve the lamb chops with a fresh spring salad of crisp greens, blanched peas and asparagus, torn mint leaves and slivered almonds.  Toss the salad with a simple balsamic vinaigrette.