At the Italian Table – Cook, Dine, Wine
"A tavola non si invecchia" – At the table one doesn't age.
– Old Italian Saying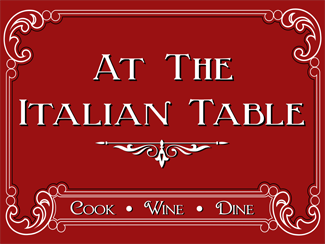 In the true style of an Italian osteria,  At the Italian Table in the Crescent Hill neighborhood offers authentic regional cuisine from Italy.  The two communal tables that seat 10 each make for a fun evening with great synergy, conversation and laughter.  The menu changes each day and is based on what is in season and fresh.  Chef Gina Stipo chooses and prepares the five-course meal for you, which includes an antipasto, fresh pasta or risotto, a meat and vegetable, salad course, and dessert.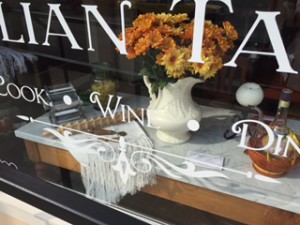 Dinners are Wednesday-Saturday at 7 p.m.  by reservation only.
When you arrive, you are welcomed with an aperitivo to get the evening started and when everyone has arrived they are seated at either of the two refectory tables brought from Tuscany.  Due to Chef Stipo's many years living in Italy, all the decor, furniture and tableware has been imported from Italy and makes for a warm and cozy home atmosphere.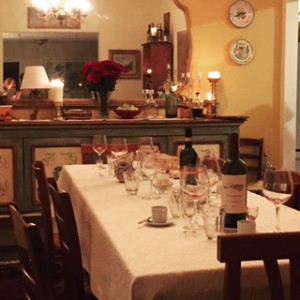 Whether you've been to Italy and long to recreate the beauty and style of your dining experience there, or you dream of Italy and would love to eat like an Italian for an evening, or you are searching for an interesting way to enjoy a meal out, At the Italian Table on Frankfort Ave is Tutto Italiano! – everything Italian.
On Tuesdays, cooking classes are held which feature 3 courses of a typical seasonal Italian meal, including making fresh pasta.  Following the demonstration class, we will enjoy the dishes we've created together at the communal table.  Classes are $75 per person and payment is taken at the time of the reservation.
The owner, Chef Gina Stipo, came to Louisville from Tuscany, where she ran a cooking school and conducted food and wine tours for 13 years. Gina chose Louisville out of a love for its sense of community, beautiful neighborhoods, and locally owned businesses and restaurants. She is excited to share true authentic Italian cuisine and culture with all of her guests.
Member Frankfort Avenue Business Association (FABA) and Crescent Hill Community Association.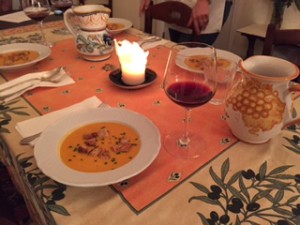 Call for information or reservations: 502-883-0211.  A non-refundable deposit is taken on groups of 4 or more.  Reservations are confirmed within the week prior to the dinner or class.  Please do not leave reservation requests on social media.

NOTE:  If you arrive with less than the number of people you reserved for, you will be charged for that number, not the number that actually come for dinner. 
Cancellations:  We are a small dining concept and are booked weeks in advance and we take a $100 deposit on tables of 4 or more.  We honor all reservations made and do not overbook nor bump you out of your reserved seats; we expect you to honor your end of the reservation and arrive on the date you reserved for.  At the same time we understand that occasionally a reservation may need to be cancelled.  While we have a waiting list and will try to fill the empty seats, please understand that may be impossible on short notice.  If you need to cancel for any reason, we expect you to try and fill the seats you have reserved.
Please DO NOT leave a message to this site to make a reservation but call us at 502-883-0211!
Service Fee:  There is a 15% service fee added to all checks and no tipping is required.
Read all about it!
https://www.thrillist.com/venues/eat/louisville/restaurants/at-the-italian-table
http://www.louisvilledistilled.com/features/mustvisitrestaurantlist.aspx