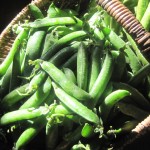 I think we take fresh peas for granted.  With sugar snap and snow pea pods in the produce section of any grocery store all year long, it's easy to do.   Seeing peas all year long removes us from the fact that peas are a spring vegetable.   What we should be seeing now, in April and May, are piles of fresh English pea pods.  But sadly they're difficult to find.  I asked the produce manager at the local Kroger here and he looked at me with a puzzled expression and pointed out the packaged snow pea pods.  They're nice too, but nothing says "spring" like a big crate of English peas.
Unless it's the spring onions, sweet and juicy, the fresh garlic, with its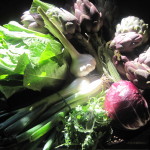 soft, new skin and light flavor, or new arugula and lettuces!  Spring means breaking away from heavy winter greens and going light and easy and fresh.
In Tuscany, fresh peas, in the form of the classic English pea pods which you have to shell, are available only in the spring and only for a short period of time. The arrival of English peas at the corner vegetable store or produce section means spring is in full swing and summer isn't far away! Once they're gone, you have to wait a whole year to eat them again.
In Venice, they make a soupy risotto called risi e bisi, which uses both the fresh peas and the little green pods they come in. There is a tough membrane on the inside of the shell, protecting the peas, which is carefully peeled away to free the tender, sweet outer pea pod. The pieces of pod are sautéed with butter and onion, the rice goes in and is cooked with a light vegetable stock made with the inedible parts of the pods.  Nothing is thrown away, everything is appreciated and savored.  After all, they're only here for a month in the spring! Then the fresh peas are tossed in towards the end of cooking. Finished with Parmigiano or grana and butter, it's a delightful spring dish.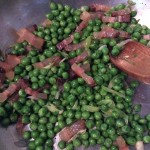 We recently made one of my favorite spring pastas in cooking class and I was reminded of how lovely fresh peas and spring onions taste together in a dish.  In the US, scallions are available all the time, but in Italy the spring and early summer bring luscious spring onions with a large white bulb and thick green tops. They too are the harbinger of warmer weather.  And if I can find some green garlic, I'll toss slivers of that in with the onions!
I'm looking forward to getting back to Tuscany for our culinary tours in May and June and can't wait to see what spring vegetables are in the garden!  I hope I haven't missed the peas!
Sugo di Piselli, Pancetta & Cipollini (spring peas, pancetta & new onions)
1 cup diced pancetta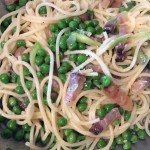 2 spring onions, chopped, or 8 scallions
1 ½ cup fresh peas
Extra virgin olive oil
6 fresh sage leaves, torn in two
Sea salt
Fresh ground black pepper
If you can't get English peas, get sugar snap peas and slice them 1/4 " thickness on the diagonal.
Gently sauté the pancetta and onion in olive oil until soft, adding freshly ground black pepper if the pancetta has been cured without it (which is usual in the US). Add the sage leaves and fresh peas and sauté a few minutes, adding salt to taste, until the peas are just cooked through. When the pasta is al dente, toss it with the sauce, adding a little of the pasta water and a generous drizzle of olive oil. Top with grated Parmigiano before serving.