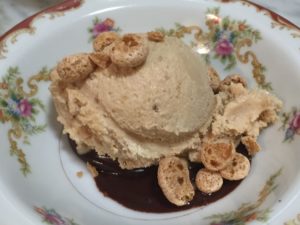 Gelato and ice cream are perfect on hot summer evenings!  Summer fruits are in season and at their most delicious and adding cream enhances their flavor.  I've been making a lot of gelato this summer using the freshest peaches and the ripest berries, or one of the rich nut pastes I've brought from Italy.
"What's the difference between gelato and ice cream?"  That question is common and I've read lots of answers both on food websites as well as in print media.  The standard answer is that gelato uses less whole cream and more whole milk, and less milk fat gives gelato the silky smooth texture.  But the fact is, it isn't the lower milk fat that makes it creamy, it's the higher sugar content.   Increased sugars keep the water molecules from freezing solid, so gelato stays creamy and easy to serve, no matter how long it's been in the freezer.    Try freezing whole milk and see how solid a block of ice it becomes!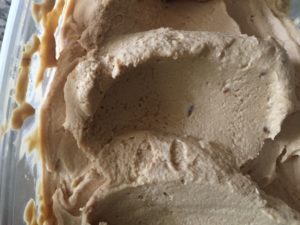 But simply adding more sucrose, or table sugar, makes the ice cream too sweet to eat.  So another kind of sugar is needed – a dextrose or inverted sugar syrup, which is less sweet than fructose or sucrose.   The sugar content becomes higher, making a mixture that won't freeze solid, but also won't be too sweet to enjoy.  Corn syrup is the easiest to use, but you can make a simple syrup with equal parts water and sugar, boiled for 1 minute and cooled.
I've had the best luck with fruit gelato, since the high level of fructose in the fruit is added to the sucrose and dextrose to keep the final product scoop-able.  Although I eye-ball my measurements, of course, I've included a recipe for you to try.
You can make gelato with almost anything seasonal. Peaches, apricots, plums and berries are abundant now and become extra luxuriant when mixed with cream.  Try avocado, which is delicious on chilled gazpacho.  Rich Italian nut pastes can be ordered on line. I recommend both hazelnut from Piedmont as well as pistachio from Sicily.   Have fun and buon appetito!
When in Italy
Gelaterias are everywhere in Italy and extremely popular, but not all gelato is created equal.  When you're in Tuscany be sure to drop by and visit our friend Sergio Dondoli at his award winning gelateria in San Gimignano.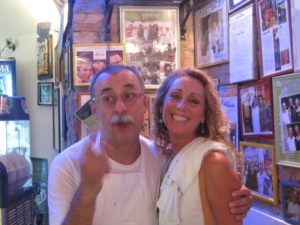 Peach Gelato
2 cups ripe peaches, pureed with 1 teas lemon juice
1 cup sugar
½ cup corn syrup
1 cup whole milk
1 cup heavy cream
Mix all together and stir to dissolve sugar.   If you want it sweeter, add more sugar or corn syrup.  Chill well, place in ice cream maker and let it run until thick and frosty.  Put the gelato in a plastic tub or bread pan, place in freezer until well set.
Use this recipe for any berry or fruit ice cream.