The reason autumn is my 3rd favorite season is that it gives you a little taste of lovely cooler weather, and then snaps you back into the beautiful heat of summertime!  Which is exactly what happened here in Louisville this past week.  I love that.
I'm confused about the produce cycle in the US.  So often when I'm looking for a seasonal vegetable or fruit, none are to be found.  There is the constant cycle of everything all the time.  Piles of apples and oranges in June when there should be mountains of apricots and cherries.  In August, at what should have been the height of its productivity, I was desperate for an eggplant.  One large grocery store had none; another smaller market had exactly 3 soft ones at $3.99/lb.  I was so disgusted I posted it on Facebook.
Now it's October and eggplants are two for a dollar.  That's 50 cents a piece.  Go figure.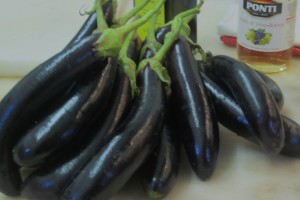 So I bought them and in honor of my 2nd favorite season, Indian Summer, I'm putting eggplant parmigiana on the menu all weekend!  It's a bit labor intensive but is so worth the effort and really the ingredients are simple.  Just a matter of putting them all together. The recipe is below.
I would serve it with the last of the rose' wine.  Buon appetito!
Parmigiana di Melanzane (eggplant parmigiana)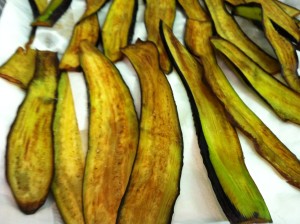 4 eggplants, peeled and sliced thin
Peanut oil for frying
Simple tomato sauce (olive oil, whole garlic, tomato puree, salt)
Fresh basil leaves
1-2 lbs whole milk mozzarella, sliced
2 cups pecorino romano, grated
Slice the eggplants thinly, lengthwise and salt them in layers, leaving them for several hours to release their water.  Rinse them and pat dry with paper.
Heat the peanut oil until 350 degrees and fry each slice until golden brown. Drain on paper towels. Prepare a large baking dish with a drizzle of olive oil and a light coating of tomato sauce. Place a layer of fried eggplant in the pan, pressing down firmly. Add a light coat of tomato sauce, some whole basil leaves and a layer of mozzarella and a sprinkle of cheese. Continue to layer in this way, making sure that you consistently press the eggplant slices firmly into the pan. In this way, once it's baked you will be able to slice it and it will maintain its shape.  Bake at 375 til bubbling.  Serve with a salad.