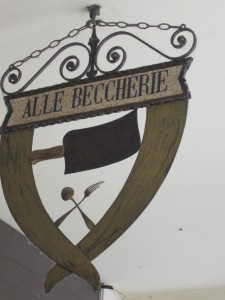 Tiramisu is one of my favorite desserts because its richness is surpassed only by the simplicity with which it is made.  Yesterday, January 17th, was the International Day of Italian Cuisine.  Each year the GVCI Gruppo Virtuale di Chef Italiani (virtual group of Italian chefs) chose a classic Italian dish for chefs the world over to recreate.  This year they chose tiramisu, that classic dessert made with mascarpone, eggs and savoiardi cookies, whose roots are fairly modern but obscure.
The word "tiramisu" literally means "pick me up" and references the caffeine, alcohol and high caloric content from the sugar and eggs.  It's difficult to trace the true origins of this dessert.  You won't find tiramisu in Italian cookbooks featuring authentic cuisine much before the early 1990's, but most stories place its origins in a restaurant somewhere in Northern Italy.  (There have been unfounded rumors that it originated in Tuscany but my experience with the Tuscans as frugal and austere prohibit them from coming up with such a scrumptiously rich dessert.)
I was traveling in northern Italy last summer and I happened upon an excellent restaurant in Treviso, a lovely town of archways and canals.  Alle Beccherie is a small, welcoming trattoria down an alley just off the main square.  It was a gem of a find; the owner was welcoming, the wait staff made a big deal of dressing my salad and deboning my fish tableside, the clientele were well-heeled locals and, as luck would have it, the menu claimed they were the original creators of tiramisu!
In talking to the owner, he explained how 35 years ago a local woman went to work in Germany and came back to Treviso to work for his father at their restaurant.  The first thing she did, he said, was invent a new dessert, and the rest is history. The origins in a small restaurant in Treviso has been corroborated by several friends from Northern Italy, so I left feeling fairly certain that I'd found the place.
At Alle Beccherie they serve tiramisu in a classic manner: they wheel the dessert cart up to your table and plop a big spoonful of tiramisu onto a plate, right out of the dish it was made in.  Rich local mascarpone cream mixed with fresh eggs and layered with savoiardi, espresso and dessert wine come together as more than the sum of their parts.  When made well, it is heaven on earth.
The key to making tiramisu is to use the classic ingredients, all of which are readily available.  Marsala wine is mixed with the espresso coffee, although when I'm in Tuscany I frequently use vin santo.  There is an ongoing argument about whether pavesini cookies or savoiardi should be used, but because savoiardi are more widely used in northern Italy and easier to find in the US, we're going to stick with them for now.  In Tuscany they make it without cream because they tend to shy away from dairy, but as they have so many more cows in Treviso, I'm guessing the addition of cream is authentic.
Following is the authentic recipe for tiramisu.  Feel free to leave comments about your experiences with tiramisu?
Enjoy the celebration of Italian Cuisine!  and Buon Appetito!
Tiramisu
2 eggs, separated
6-8 tbsp sugar
16 oz marscapone cheese
1 cup cream
24-32 savoiardi cookies, or dry ladyfingers
2 cups espresso coffee, cooled
¼ cup marsala or vin santo
Beat the egg whites until stiff in a clean bowl, beating in 2 tbsp sugar.  In a separate bowl, whip the cream until stiff with 2 tbsp sugar.  In a third bowl, put the yolks and marscapone and beat together with 2 tbsp sugar.  Fold the whipped cream and egg whites into the marscapone.  In a small bowl, combine the rest of the sugar with the coffee and liquor.
Place a thin layer of marscapone in the bottom of a deep glass baking or serving dish.  Individually dip the cookies quickly into the coffee and layer them in the pan, top with a layer of marscapone and then another layer of cookies.  There should be two to three layers of cookies alternated with a 1/2″ layer of marscapone, finished with marscapone on top.  Sprinkle the top with cocoa, chopped chocolate or, my favorite, ground espresso beans.  Refrigerate at least 2 hours before serving.