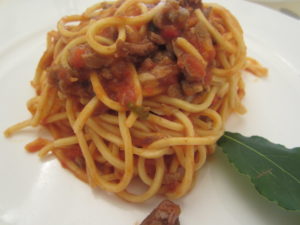 Such sad news this week coming out of Italy.  As beautiful as the country is, it sits on several tectonic plates which are on the fault line between Europe and Africa.  This means that the earthquakes that routinely happen are usually shallow, which cause more damage to the surface than the really deep quakes that happen in Asia or California.  The one this week was only 6 miles below the surface and basically leveled several old towns in the mountainous regions of the Appenine mountains of Lazio and Umbria.
Especially noteworthy is the tiny town of Amatrice, high in the mountains and accessible only by a few old roads.  I made a pilgrimage there, years ago, in a quest to better understand the pasta sauce amatriciana, which is common on menus in central Italy and is said to have originated in Amatrice.  I found a sleepy little town and only one place open for lunch, but the proprietor was happy to discuss the history of amatriciana sauce.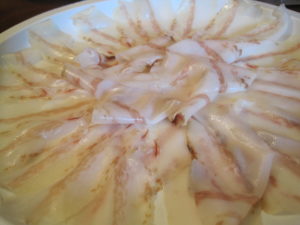 It was developed hundreds of years ago by the shepherds who spent months in the pastures with the sheep, traveling to high mountain meadows in the summer to follow the grazing animals and cooking for themselves.  The original recipe was simple:  cured pork cheek (guanciale), onions and aged pecorino cheese.  These were staples that the shepherds could carry with them and quickly turn into a simple sauce for pasta.  As time went on, the tomato gained popularity and was added to the dish.
It is easy to complicate with the addition of sausage or white wine or parsley, but the original recipe is simple and requires only a few ingredients, provided the ingredients are of excellent quality:  pork cheek or pork belly (guanciale or pancetta) which has been cured with lots of black pepper; sliced or chopped onions;  aged pecorino cheese such as pecorino romano which is generously grated over the top.  Tomato sauce is optional but I like to use it.
Amatriciana is traditionally tossed with bucatini pasta, a thick spaghetti with a hole through the middle.  Made with semolina and water, it comes dried in a box and can be found in specialty stores and is a common pasta in the Rome area.  You can use another dried pasta such as spaghetti or spaghettini, but I like to use homemade spaghetti alla chitarra, made with semolina, water and olive oil, and cut by hand on a chitarra, or "guitar".  It's commonly used in the Abruzzo area just to the south, which sustained a major earthquake in 2009.
The 50th annual sagra of spaghetti all'Amatriciana was scheduled for this weekend.  Sadly, I doubt the town will ever recover to hold another one.  At the Italian Table will be making this pasta all weekend and raising a toast to the people who survived while saying a prayer for those who lost their lives.  God bless all those in central Italy who are affected and all those who are there helping and giving aid.
Pasta all'Amatriciana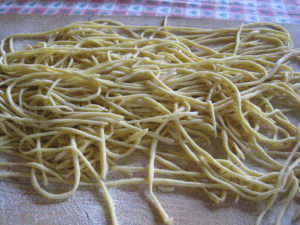 1/4 cup olive oil
1 medium onion, chopped
2 garlic cloves, chopped
8 oz guanciale or pancetta, cubed
6 cups tomatoes, crushed with juices
1 cup grated pecorino cheese
sea salt
The pork cheek or belly should be well cured with black pepper and very fatty.  If you can't find that, use the fattiest pancetta you can get and add black better while it's sauteing.
Sauté the guanciale or pancetta in a medium sauce pan, using a small amount of the olive oil.  Remove to side and sauté onion and garlic in olive oil until soft, adding additional olive oil if necessary.  Return the meat to the pan,  add the tomatoes and salt and freshly ground pepper, simmer for 30 minutes. Toss with cooked spaghetti, or use the more traditional bucatini if you can find them.  At the restaurant, we use homemade spaghetti alla chitarra.  Serve with lots of grated pecorino romano cheese.