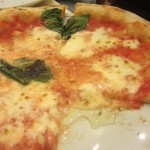 October is Pizza Month, everyone's favorite Italian food! Originally from Naples, where it was street food, pizza was brought to the American shores by the hordes of Napolitani that immigrated in the late 18-early 19th century.  It didn't spread to the rest of Italy until after WWII, but its cheesy goodness has found a home throughout the world.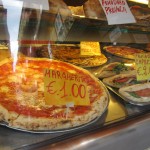 In my family, every Friday night was pizza night. Mom made the dough in the afternoon and allowed it to rise, then punched it out onto a baking sheet, covered it with tomato sauce and Polly-O whole milk mozzarella, a sprinkle of basil and oregano and a drizzle of olive oil. Served with lentil soup, that was Friday night supper for years and years. And the leftover pizza sat on the kitchen counter all night and we ate it for breakfast Saturday morning! Simple and delicious.
Pizza can get really complicated outside Naples, but the traditional pizza is still the most honored in that food centric place: marinara with tomato sauce, oregano and garlic slivers; and margherita with tomato, mozzarella and basil leaves.
Pizza in Tuscany tends to be thin and crunchy, almost cracker-like. This is caused from rolling the dough flat with a rolling pin or a rolling machine, thus destroying all the bubbles formed by the yeast. In Naples and Rome, they punch the dough out or gently stretch it to form it or put it in the pan. This way the bubbles remain and when the pizza hits the hot oven, they expand and give a lovely chewy crust.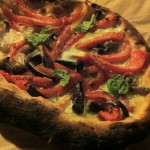 In Siena we have ciaccino, a very thin, double-crusted pizza, stuffed with a single slice of ham and a sprinkling of cheese.
When we were in Campania this past September with our culinary group, we ate pizza in two historic locations: Pizzeria Brandi in Naples, which invented the pizza Margherita in 1878 for a visit by the queen of Italy; and Pizza al Metro in Vico Equense, which invented pizza by the meter, or yard. Tell them whatever toppings you want, they make a pizza 3-6 feet long and put the toppings on it at intervals. Everyone gets the pizza they want and it's served on a long trolley set by the table!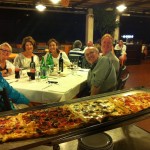 The great local red wine goes perfectly with pizza. Try an aglianico, a primitivo or a simple Chianti. Buon Appetito!