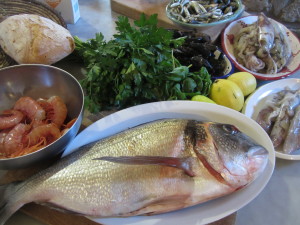 The holiday celebration of the Feast of the Seven Fishes is considered by many non-Italians to be the quintessential Italian Christmas Eve festivity, but in fact it's much more of an Italian-American tradition. The custom of having no meat comes from the Catholic church's restrictions on eating meat during advent, and with the abundance of fisherman and fish from the coastal regions of the peninsula, the last day of advent being Christmas Eve, the tradition took hold of eating an elaborate fish dinner before meat returned to the table on Christmas Day.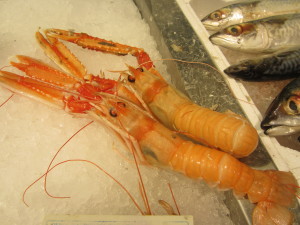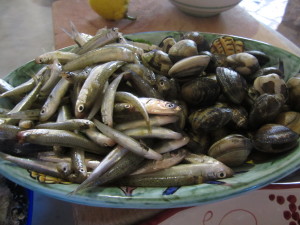 Since a great majority of immigrants in the 19th and 20th centuries came from the coastal cities of Naples and Palermo, the custom of eating fish morphed into a feast of many courses of fish and seafood and entered the Italian American vernacular as the Feast of the Seven Fishes, the accepted way to celebrate the holiday in Italian style.
In my family, where my grandparents came from mountainous areas of southern regions (Potenza in Basilicata and Avellino in Campania), we celebrated with cheese ravioli in tomato sauce followed by a large baked fish and finished with platters of fried pastries.  Christmas Eve to me meant my grandma's fried struffoli drizzled with honey and fried chestnut and cocoa ravioli drenched in powdered sugar.  Outside grandma's house, my family has always celebrated with a huge platter of spaghettini tossed with seafood: rock shrimp, lobster or shrimp, roasted in garlic and herbs – all accompanied by copious amounts of wine!
This year in my new osteria in Louisville, At the Italian Table, we will be celebrating the Feast of the Seven Fishes in the days leading up to and following Christmas.  Tiny fried shrimp and calamari, scallop shells baked with seafood, bread crumbs and herbs, drizzled with great Sicilian olive oil; mussels steamed in white wine and tomato, served on toasted bruschetta doused in the new Tuscan olive oil; baked snapper or branzino, drizzled with lemon and orange olive oil from Sorrento – a full evening of delicious southern Italian fish dishes and crisp wines to complement them.
Here's my recipe for  Calamari Arabbiata – squid simmered in tomato and hot peppers – delicious served with bruschetta! Buon Appetito and Buon Natale a tutti!!
Calamari o Polpo con Sugo Arabbiata (squid or baby octopus in spicy tomato sauce)
2 lbs squid, cleaned and sliced into rings and tentacles; or baby octopus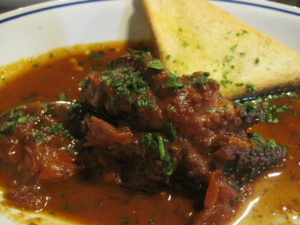 3 garlic cloves
olive oil
hot peppers flakes to taste
2 cups crushed tomato
1/4 cup fresh parsley, minced
1/2 cup white wine
Sauté the garlic in the olive oil gently, add the hot peppers and half the parsley and cook a few minutes, being careful not to brown the garlic.  Add the squid or baby octopus and sauté until coated with the garlic and parsley.  Add the wine, allow it to cook off and then add the tomato and simmer for 30 minutes, salting to taste.  Sprinkle the remainder of the parsley over the dish and serve with bruschetta.
Bruschetta: toast slices of heavy country loaves (the best in the US is Tuscan Pane from Trader Joe's) until golden brown, gently drag a single clove of garlic over the toast and drench in great extra virgin olive oil.