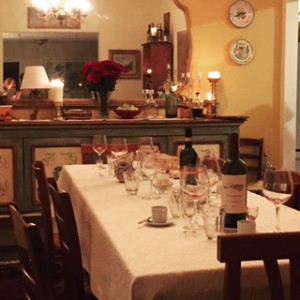 In a dining room filled with candlelight, lovely antiques and décor brought by the owner from Italy, you will dine at a 300 year old chestnut communal farm table set or the antique oak table, each set for 8-10.  Bring friends or come alone or with your partner and meet new people – the warm and friendly atmosphere will make you feel comfortably at home.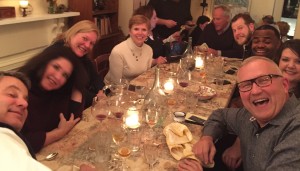 The menu is five courses: antipasto, fresh homemade pasta, meat with seasonal vegetable, salad and dessert, and reflect home-cooked meals from the various regions of Italy. Ingredients are sourced locally whenever possible and many items have been hand-carried by Chef Gina from Italy.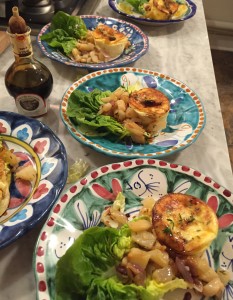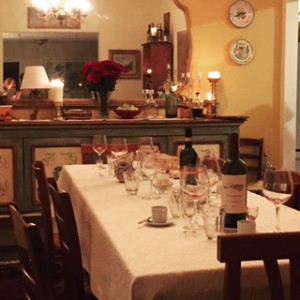 Dinner is at 7:00 p.m. each Wednesday, Thursday, Friday and Saturday.  The five course meal is $65 per person.  There is a 15% service fee and sales tax added to each check; it is not necessary to tip.
Please let us know if there are any food allergies or dietary restrictions and we will do our best to accommodate them.
Reservations are made by calling 502-883-0211.   A non-refundable deposit of $100 is taken for groups of 4 or more.

We offer a wine list of excellent Italian wines by the bottle as well as a house white and red available by the glass or decorative pitcher.  Priced fairly, the list covers all the excellent wine regions of Italy.  You are welcome to purchase off the list or allow Gina to make suggestions on which wines will best go with the dishes she's prepared, to enhance your dining experience.
Call for information or reservations: 502-883-0211.  A non-refundable deposit is taken on groups of 4 or more.

NOTE our cancellation policy:  If you arrive with less than the number of people you reserved for, you will be charged for that number, not the number that actually come for dinner. 
We are a small dining concept and are booked weeks in advance.  We honor all reservations made and do not overbook nor bump you out of your reserved seats, but we understand that occasionally a reservation may need to be cancelled.  While we often have a waiting list and will try to fill the empty seats, please understand that may be impossible at short notice.  If you need to cancel last minute for any reason, we expect you to try and fill the seats you have reserved.

Call now to reserve your spot At the Italian Table!  502-883-0211

Please DO NOT leave a message to this site to make a reservation.
Like us on Facebook and look for last-minute openings at the Table!  Sign up for the newsletter for updates!
502-883-0211
Past Menus:
Fennel/carrot sformato w/ parmigiano fonduta, cannelloni stuffed w/ ricotta & mozzarella topped with rich tomato sauce, braised pork shoulder w/ rosemary, sage & fennel pollen, escarole salad w/ walnuts and pecorino, profiteroles
Bruschetta w/ heirloom tomatoes, trenette pasta w/ zucchini & pesto, chicken piccata w/ peperonata, radicchio, romaine & arugula salad, lavender pannacotta w/ fresh peaches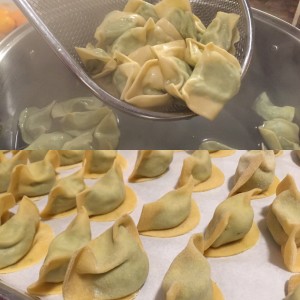 Fried Calamari, tagliatelle w/ duck ragu, roasted rabbit w/ oranges, apple cake w/ fior di latte gelato
Tuscan pecorino flan w/ roasted pear & shallots, Tortelli w/ porcini & cheese, grilled NY strip w/ arugula & parmigiano, tiramisu
Panzanella e Affettati Misti, Tagliolini con Zucchini e Pesto, Porchetta w/ fennel, Pannacotta di Lavanda con Pesca
Salvia e Fiore Fritti, Ravioli dell'Estate con Pomodori e Basilico, Pollo Arrosto con Limone, Torta di Pesca con Gelato di Lampone
Fior di Zucca Ripieno, Gnocchi di Patate con Gorgonzola, Coniglio Arrosto con Olive, Gelato di Pistacchio con Biscotti di Nociole
Charcuterie board, Duck Tortellini in Brodo, Porchetta with fennel & carrots, pears poached in red wine w/ cinnamon mascarpone