Osteria – Italian, from oste – innkeeper; from Latin hospit-, hospes- host, stranger, guest; a small establishment serving food and wine in a hospitable, communal environment.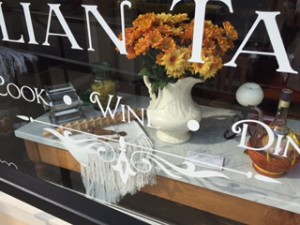 Before I opened At the Italian Table in Louisville this past summer, I designed the open kitchen and dining area as a space where I could cook and serve food, hoping to serve dinners but unsure what the community would embrace.  There was a local desire for cooking and pasta-making classes, and having owned a cooking school in Tuscany, I knew we could plan and execute that.  Having shipped two containers of furniture, decor and tableware with me from my years in Italy, I wanted to recreate a warm, Italian environment.  At the two long refectory tables, I dreamed of serving meals family-style in a communal setting, emulating dinners in Italy.  I wondered if to interest the locals and get them in the door, I would have to offer some retail of table and kitchen items from Italy – sea salt, olive oil, kitchen towels – and so set aside a retail area.  And I figured if I only ended up catering, at least I was cooking in a licensed kitchen.
Much to my delight and amazement, Louisville has decided that At the Italian Table is an osteria and has embraced it with open arms!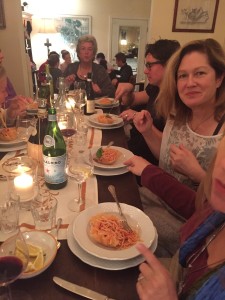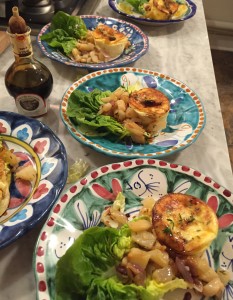 The idea of casually dining on several courses of simple yet delicious food, in a lovely warm setting, with a convivial, familial and communal atmosphere, has struck a chord with local diners.  In Italy, an osteria was historically a small dining establishment, often in someone's home, where wayfarers could get great local food and wine, reasonably priced and enjoyed in a communal setting with others.  The fact that the Frankfort Avenue train often passes by only enhances the travelers setting!
People arrive as singles, in pairs or in groups and are all seated together.  The synergy around the tables is amazing and we rejoice in our open kitchen to hear the chatter and laughter of people enjoying good food and wine in each others' company!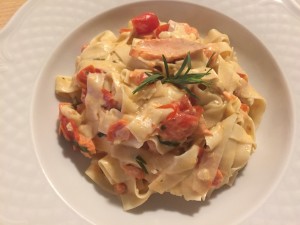 With two large communal tables full four nights a week, we are serving up beautiful wooden boards of sliced Tuscan salumi, lovely fresh pastas, and grilled or roasted meats, to enthusiastic diners!  The addition of Italian wines from a selective list of reasonably priced wines from all over Italy, along with after-dinner grappa and amaro, has completed the atmosphere of an osteria.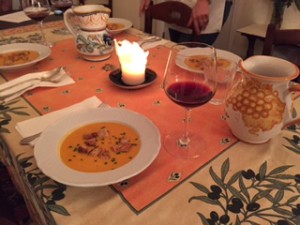 My hats off to Louisvillians for understanding and embracing this convivial way of dining!  It is what I dreamed At the Italian Table could be and, along with my excellent and accomplished staff, Angelina and Don, we're thrilled to be a part of a new way of dining in this great city!
Buon Appetito!  See you at the Table soon (call for a reservation!  883-0211)