At the Italian Table –
"A tavola non s'invecchia mai" – At table one never ages.
Old Italian Saying
At the Italian Table is a new and original micro-restaurant concept on Frankfort Ave between the Crescent Hill and Clifton neighborhoods.   In the true style of an Italian osteria, the cuisine is authentic regional Italian fare, the atmosphere and dining is informal and friendly, and the Italian wine list is simple and chosen to go with the food.  We offer communal dinners for up to 20 people, Wednesday thru Saturday, and hands-on cooking classes on Tuesday evenings.  Come with a group of friends or join us on your own to make new friends!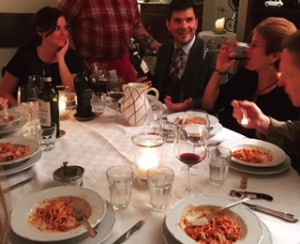 Our communal dinners are served Wednesday-Saturday at 7 p.m.  You are served a welcoming aperitivo on arrival and when everyone is ready, we put ten people around the old chestnut table and eight people around the antique oak table and we begin with an antipasto, continuing with the fresh pasta and main courses.  After dinner, dessert is served and espresso offered.   Many of the ingredients for the meal have been brought back from Italy with Chef Gina on her frequent trips, or are sourced from local farmers, and the herbs come from the kitchen garden by the front door.  The communal dinners do not include a cooking class or demonstration.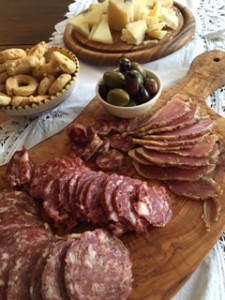 It's not necessary to get a group of ten friends together;  you can join us on your own or with your spouse and make new friends around the table, chatting about shared experiences over a glass of wine and excellent meals that reflect the home-cooking of Italy's many regions.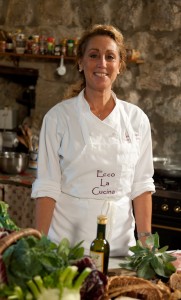 Chef Gina spent 13 years in Tuscany where she had a cooking school, Ecco La Cucina, and she offers hands-on cooking classes for 8-10 people every Tuesday from 6:30-9:30.  We always make fresh pasta and the classes are hands-on, informative and fun.  After making three traditional dishes from various Italian regions, we then eat what we've made!  The cooking class is not followed by a four-course meal.
We welcome you to join us for a delicious dinner or for a hands on cooking class soon!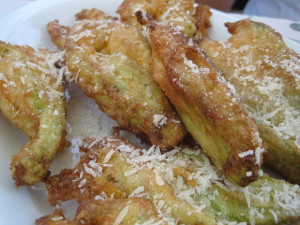 Location & Phone:
2359 Frankfort Ave
Louisville KY 40206
502-883-0211
Hours:
Classes:   Tuesday 6:30-9:30 p.m.  $75 per person
Dinners: 7 p.m. Wednesday, Thursday, Friday and Saturday   $65 per person.
Please let us know if there are any food allergies and we will do our best to accommodate them.
Wine and spirits are available for purchase.  Our list of excellent Italian wines reflects the best wine regions of Italy and is available by the bottle, in addition to a house red and white wine available by the glass.  Several bourbons are on offer as well as grappa, amaro and after dinner digestivos.  Dinner is $65 per person plus sales tax and a 15% service fee.  We don't take tips.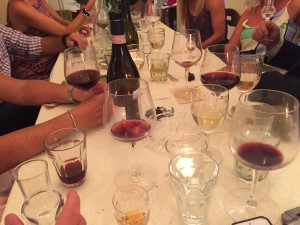 Cancellation Policy and Payment Details:  We try to be as flexible as possible and understand that cancellations are occasionally going to happen.  A $100 non-refundable deposit will be taken on groups of 4 or more.
NOTE our cancellation policy:  If you arrive with less than the number of people you reserved for, you will be charged for that number, not the number that actually come for dinner. 
We are a small dining concept and are booked weeks in advance.  We honor all reservations made and do not overbook nor bump you out of your reserved seats, but we understand that occasionally a reservation may need to be cancelled.  While we have a waiting list and will try to fill the empty seats, please understand that may be impossible at short notice.  If you need to cancel for any reason, we expect you to try and fill the seats you have reserved.
Call now to reserve your spot in our next cooking class or dinner!
Please DO NOT leave a message to this site to make a reservation.  Call us at 502-883-0211